变化 (biàn huà) English Meaning
change

variation

to change

to vary
Traditional Characters: 變化
Corresponding Classifiers|Measure Words:
温度有细微的变化。
Wēndù yǒu xìwéi de biànhuà.
There is an imperceptible change in temperature.
变化太小,察觉不出来。
Biànhuà tài xiǎo, chájué bù chūlái.
The change is too small to be observed.
今年物价没显出多大变化。
Jīnnián wùjià méi xiǎn chū duōdà biànhuà.
Prices have not shown much variation this year.
群众情绪转眼就能发生变化。
Qúnzhòng qíngxù zhuǎnyǎn jiù néng fāshēng biànhuà.
The mood of the crowd can change in the twinkling of an eye.
在新政权下,事情将会发生变化。
Zài xīn zhèngquán xià, shìqíng jiāng huì fāshēng biànhuà.
Things will change under the new regime.
Stroke Order & Character Components
变 (biàn): to change; to become different; to transform; to vary; rebellion
亦 (yì): also;
又 (yòu): still / hand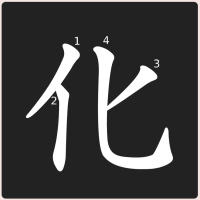 化 (huà): to make into; to change into; -ization; to ... -ize; to transform; abbr. for 化学|化學(huà xué)
亻 (rén): man
匕 (bǐ): spoon / man overthrown
Links to all HSK Words & Lists Containing 变
HSK 5 Word List
转变(zhuǎn biàn): to change; to transform; CL: 個|个(gè)
HSK 6 Word List
变故(biàn gù): an unforeseen event; accident; misfortune
变迁(biàn qiān): changes; vicissitudes
变质(biàn zhì): to degenerate; to go bad; to deteriorate; metamorphosis
演变(yǎn biàn): to develop; to evolve
*CL: Classifier/Measure Word
Links to all HSK Words & Lists Containing 化
变化(biàn huà): change; variation; to change; to vary; CL:個|个(gè)
文化(wén huà): culture; civilization; cultural; CL: 個|个(gè), 种(zhǒng)
HSK 5 Word List
化学(huà xué): chemistry; chemical
消化(xiāo huà): digest; digestion; digestive
HSK 6 Word List
多元化(duō yuán huà): diversification; pluralism; to diversify
恶化(è huà): worsen
二氧化碳(èr yǎng huà tàn): carbon dioxide; CO2
化肥(huà féi): fertilizer
化石(huà shí): fossil
化验(huà yàn): laboratory test; chemical experiment; assay
化妆(huà zhuāng): to put on make-up
简化(jiǎn huà): simplify
进化(jìn huà): evolution; CL: 個|个(gè)
潜移默化(qián yí mò huà): imperceptible influence; to influence secretly
融化(róng huà): to melt; to thaw; to dissolve; to blend into; to combine; to fuse
*CL: Classifier/Measure Word